App Development Cost: How Much Does it Cost to Develop a Mobile App in 2022?
In 2022, developers have managed to find various ways to reduce app development costs. But in a broad sense, the total app development cost depends on what you want to achieve. As of early 2022, data shows that there were over 80,000 mobile apps released via the Google Play Store alone.
The focus of this post is to help you understand the factors that influence app development cost and touch on simplified steps to develop a unique app in a competitive app development marketplace.
From Basic to Complex App: Average App Development Cost
When it comes to the app development cost, it all boils down to whether you want a basic, medium, or complex application. On average, it can cost from $25,000 to 50,000 to develop a mobile app on a single platform. According to our market knowledge and years of experience in app development, the cost to develop a medium-complex application can range from $50,000 to $150,000 on a single platform.
On the other hand, the total cost to develop a complex application on a single platform is usually over $150,000. And if you're planning to develop an app for Android as well as iOS, then you will likely have to invest more money to develop the app. In our collective experience, the best course of action for businesses is to estimate the cost of app development in terms of complexity.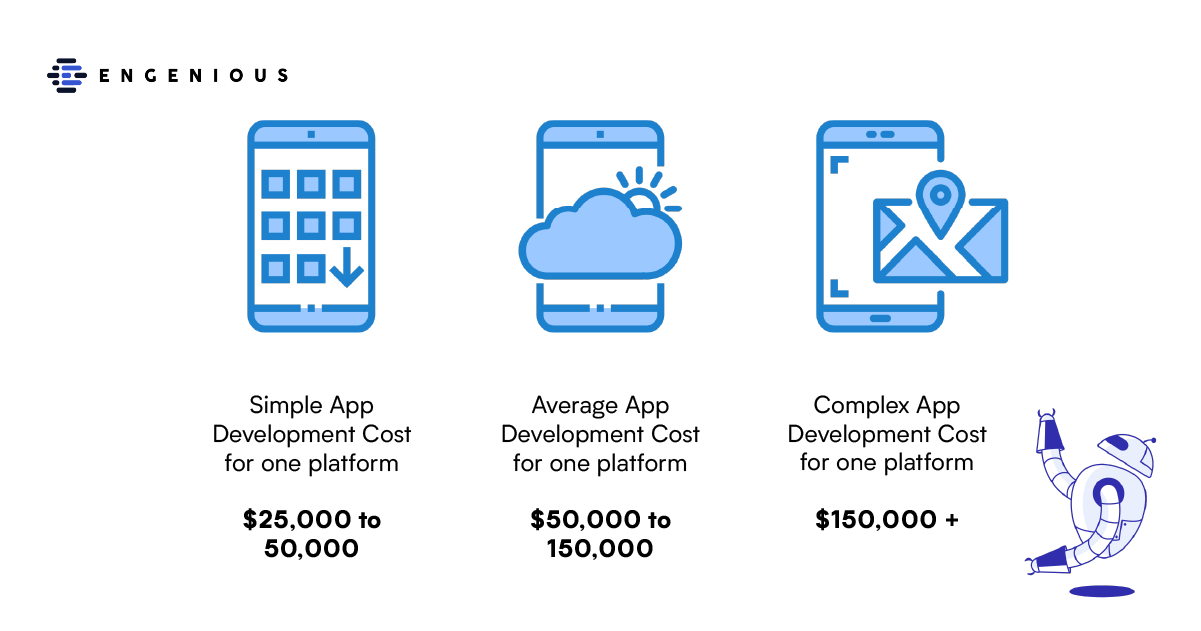 Factors that Influence the App Development Cost
The factors that influence the app development cost include your app budget, the purpose of the app, the process to build the app, and who gets to build the app. The app development cost also can increase or decrease depending on the maintenance costs, app design, operating system, and app complexity.
Type and Design Complexity of the Application
Whether you want to develop a B2C or B2B app, the cost can have an influence throughout the development process. Remember, different needs apply to different markets that impact the functionalities and features of the app.
Ordinarily, B2C companies develop mobile apps for public use. On the other hand, B2B apps are developed to improve the external and internal processes of a business. For instance, if you want to develop a basic app, then it wouldn't cost thousands of dollars to build the application.
Complexity Level of the App
The degree of complexity of the app you want to develop is a major factor that influences the development cost. You should be able to count on your development team to estimate the total hours it will take to implement and launch an app with the required specifications.
The App development process gets complicated, extensive, and expensive when you throw in complicated features and functionalities. For instance, the design of an eCommerce app or a gaming app would cost significantly more than the design of a calculator.
In layman's terms, the more features and functionalities you want your app to have – the more complex the app development process will become in the long run. In terms of coding, take into account the architecture, testing, security, back-end development, and design costs.
Whether it's user engagement-based features, in-app purchases, device features, or location services, each element can increase the complexity level and influence app development cost. Complex apps usually complete the app development process within 8-12 months.
The Cost of Developers
The qualification level used in programming languages and the origin country of the developers can impact the app development cost. If you want top-notch communication, trustworthiness, and transparency, then opt for an in-house development team to build the app at a lower price point.
On average, it costs 85,000 a year to hire an Android or iOS developer. Hiring a designer and full-stack developer can cost $85,000 and $95,000 a year. Hiring an outsourced development team is a more suitable option to increase innovation, communication, and flow of ideas.
If you want to further cut back on hiring costs, you can seek out the services of developers on freelancing platforms like Fiverr and UpWork. Like outsourced development firms, you can hire freelancing developers on an hourly and contractual basis. The average cost to hire a US-based mobile app developer on freelancing platforms is $50 to $70.
Platform Cost to Develop and Run the App
You can't answer the question "how much does it cost to build an app?" without knowing what type of app you are going to create. You can develop a hybrid or native app, which usually comes down to "your" unique project requirements.
If you want to build a native app, the development process involves creating an app for either Android or iOS app. Hybrid mobile app development involves building an app that functions on multiple iOS and Android operating systems.
App Maintenance
App development expenses continue after the launch of the application into the market. The costs depend on how frequently you will have to maintain and test the app throughout the year.  But to provide additional support, you may have to cover most maintenance costs in a year.
In the past, we've had the experience to develop dedicated apps at a low cost for Grammarly, Continuity, A2B direct, Pango, Emerge, etc. The cost of app development was different for each app and came down to the features, functionalities, and added requirements of the clients.
More about our cases you can read here.
Preparation Stage of App Development
Decide on the requirements for your application
Start by discussing the application requirements with your developers. Right from the start, it is crucial to establish clear parameters for the app development project. At this stage, businesses need to ask questions like what type of app they would like to develop, what would be the timeframe to complete the development process, and what is the budget to develop the cost. For conceptual purposes, you should also talk to developers about any potentially similar apps.
Prioritize app features early on
Most business owners now follow the newest industry practices and guidelines to reduce app development costs. The trick is to prioritize app features and functionalities in the early development stages. This, in turn, helps developers get an accurate estimation of the overall app development.
The early involvement allows QA to better understand the needs and requirements of your app project. At the initial stage, developers should also be able to address application flow queries and concerns.
Consider Hidden App Development Costs
You will have to take into account potential hidden costs throughout the app development process. These hidden expenses usually include infrastructural costs, management costs, admin costs, functional costs, and support charges.
Wireframing the App
Wireframing an application is an essential part of mobile app development. But in order to design a proper wireframe, you have to pay close attention to project requirements and communicate the methods with the entire app development team.
UI and UX Design
An app developer or app development agency will ask you questions like standard preferences for fonts and color of the mobile app and the most preferred apps. Typically, mobile app developers use design tools such as Sketch, Adobe XD, or Adobe Photoshop to render sample screens.
Consider Quality Assurance (QA)
One of the most important steps of mobile app development is to conduct quality assurance early on. Once you decide to develop a mobile app, it is crucial to regularly test the application. This is one of the best ways to reduce the cost of developing apps and build high-quality mobile apps. Without continuous QA, you would a lot of bugs that increase the overall development costs.
Interview the developers personally
In the early stages, make sure to interview the developer or app development company in person and reward the project on the basis of competency and experience. Feel free to inquire about the previous work, references, and companies developers have had the chance to work for beforehand.
Make sure the developer or app development agency has a strong understanding of your business and target audience. Opt for developers who have experience in building cost-effective apps with attractive features. 
Also, be direct and ask the developer for required information prior to coding the application. Last but not the least, find out whether or not the developer is capable to handle the testing of the app throughout the development process.
Hire an outsourced development team
Practically, outsourcing a competent development team is the best option to avoid potential development risks and reduce overall costs. Hiring an outsourced development team also serves as a good option to develop a scalable app for a long time.
Hop on a call with us to discuss how an outsourced development team can help your project!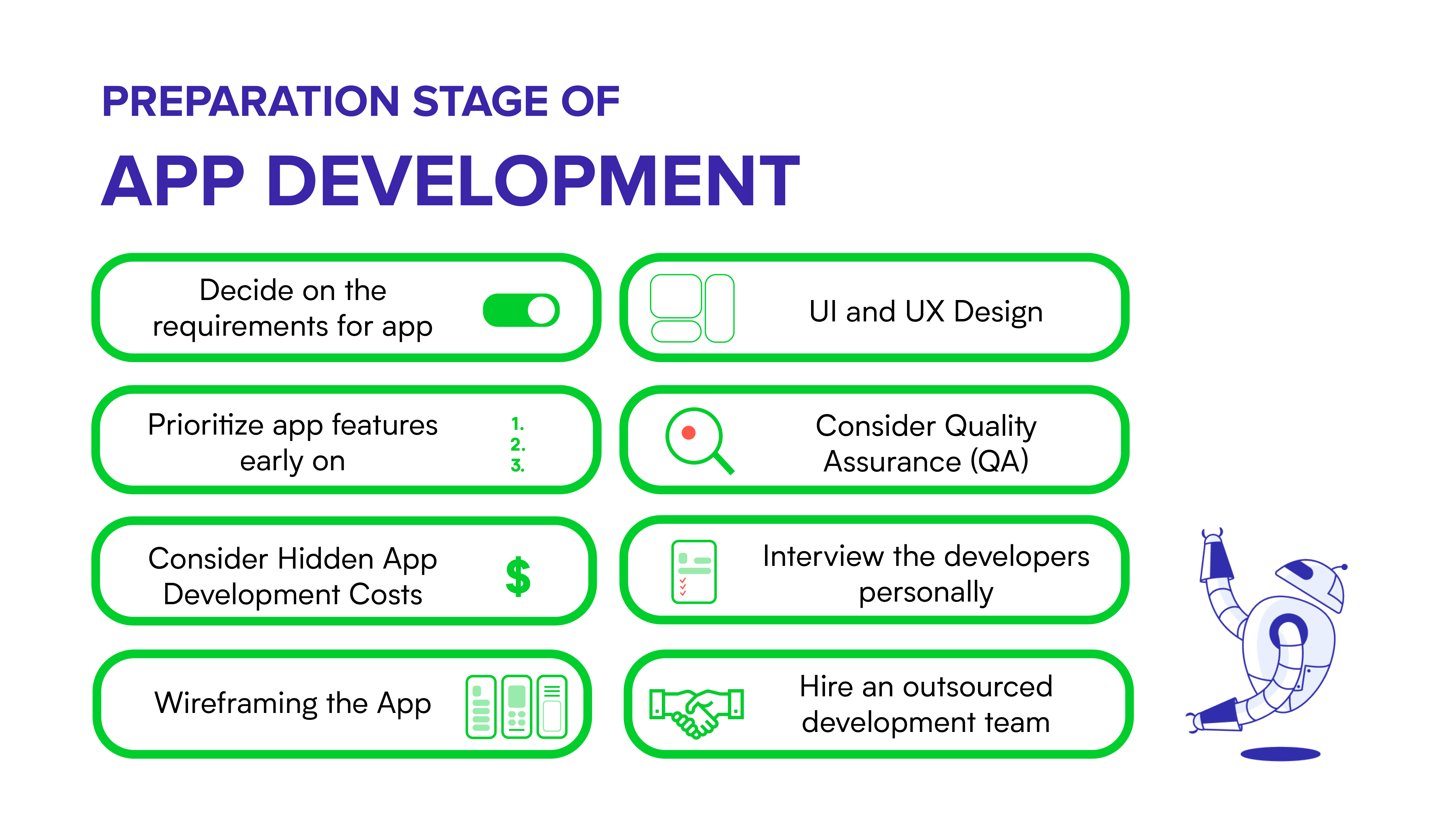 Final Thoughts
In 2022, it would be fair to state that app development has come a long way. In fact, experienced app developers believe that the app development revolution has just started. But it is vital to realize and recognize that spending a lot of resources does not mean you're bound to get a perfect app.
One of the best tactics to save app development costs is to save the best elements for later development stages and then transfer them straight to the backlog. Once you start the development of an app with MVP or Minimum Variable Product, it will help you build an app at a lower cost and mitigate potential risks at the same time.
The IT landscape is consistently changing and it may be too overwhelming for businesses to break down the accurate cost to develop an app.  The last thing businesses should do is lose sight of the market trends around app development. In retrospect, the more aware businesses are of their app needs, the better chances they will have to build the most cost-effective app without compromising on the functions and functionalities.