The future of digital mortgage loan services
Obtaining a mortgage on your very first house is a significant life milestone, not to mention a significant financial responsibility. Conventional mortgage loans are costly and time-consuming. The average mortgage currently takes 49 days to conclude and charges the lender around $8,000 to initiate. That is a lot of effort and money put into a single loan. However, digital mortgage technology is gradually altering that reality, benefiting both the applicant and the lender. By paying attention to current trends, lenders may unleash more potential—and profit—in the digital mortgage industry.
What exactly is a digital mortgage loan?
A digital mortgage employs technology to communicate with applicants at every level of the loan application in order to decrease internal costs, remove time-consuming manual procedures, and simplify the outfacing process. There would be no human involvement and no paper transfers in a totally digital mortgage.
The greatest technology, on the other hand, combines high-tech elements with person-to-person touchpoints, providing borrowers with a modern and personalized experience. In other terms, technology should not replace your lending team, but rather enable them to do their best work.
Technologies to support lending process digitalization
Big data technology use in mortgage loan servicing
Big Data – refers to a variety of things, but technologists often characterize it by the four Vs: huge in volume, widely variable in format, fast in velocity, and complicated in terms of veracity. That can include customer information (loan files, bank statements, investment accounts) and third-party information for mortgage lenders (credit scores, tax returns, credit card statements). Big data technology and big data analytics are phrases that refer to how this information is acquired, structured, and made searchable. Machine learning, a form of artificial intelligence, use algorithms to evaluate large amounts of data, generate conclusions, and update these findings as new information becomes available.
How Artificial Inteligence helps to caliber home loans
AI-powered chatbots, which can compare hundreds of mortgages in seconds, are important facilitators for different digital mortgage robo-advisors. In Singapore, OCBC created Emma, the very first AI-powered chatbot specializing in housing and renovation loans. Lenders can provide highly customized mortgage proposals by collaborating with AI-enabled machine learning companies such as Earnix and Wisor. Instead of confusing customers with 20 distinct product combinations, suppliers recommend the one "best" option based on a thorough knowledge of the customer's financial condition.
Cloud servicing for private lenders
Using machine learning and artificial intelligence to improve the mortgage origination process necessitates tremendous processing power and storage. As a result, cloud companies such as Amazon Web Services, Google Cloud, and Microsoft Azure are getting more involved in mortgages and financial services in general, a trend hastened by the epidemic. Partnering with a cloud platform rather than keeping your own equipment allows businesses to scale more easily. Cloud providers, on the other hand, have created unique AI and machine learning tools that can be tailored to the demands of specific industries and businesses.
Customer needs to force digitalization of home loan services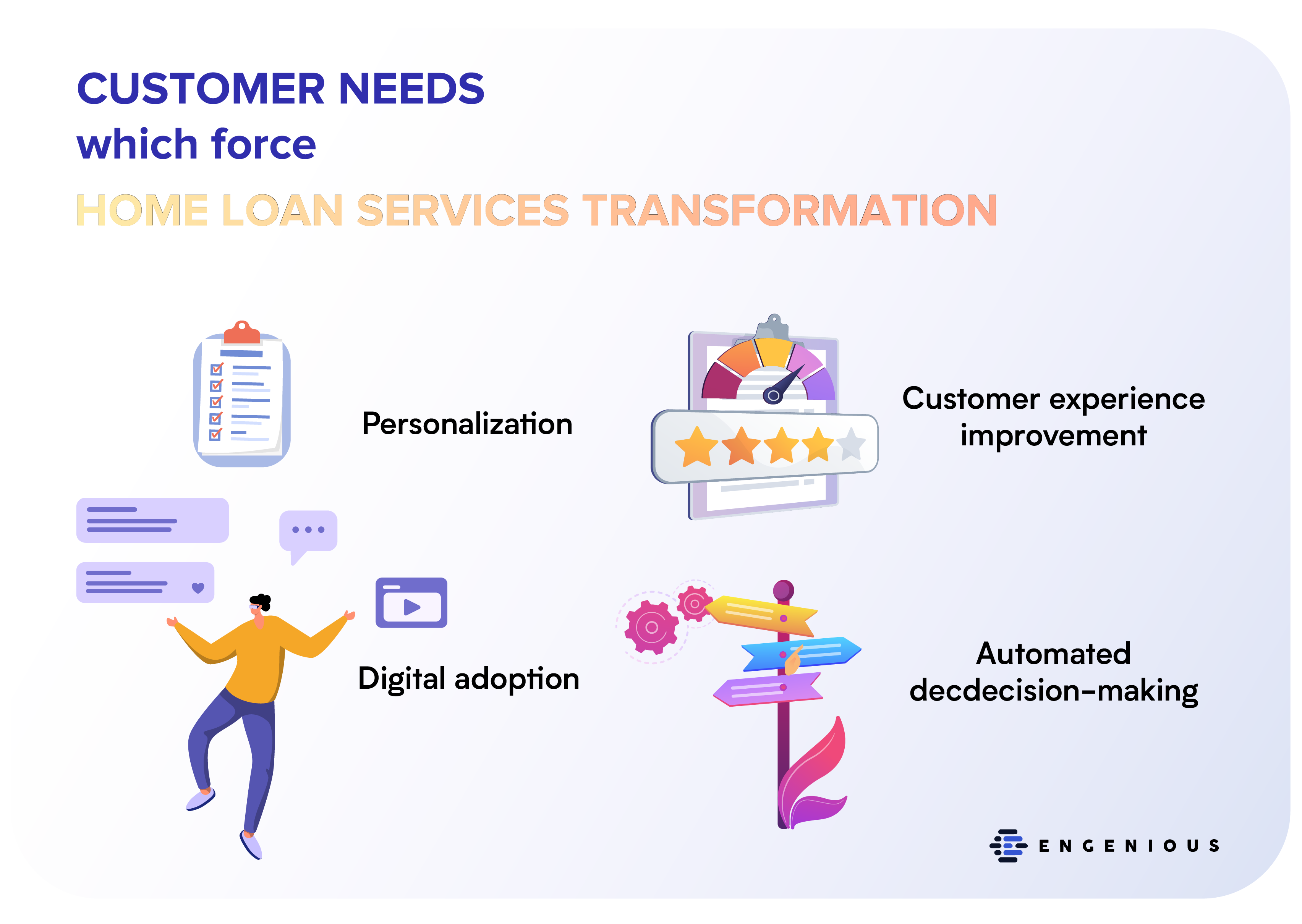 While lenders continue to see record volume in 2021, they cannot afford to ignore the digital transformation, which could either significantly impact their business in 2022 and beyond. We have identified a few of the biggest trends that are expected to influence how consumers engage with mortgages in the near future.
Personalization of the digital mortgage loans
What do dating apps with swipe-right buttons have anything to do with mortgage loans? Personalization and a sense of need Singles throughout America believe that dating applications will "understand them" after completing a few demographic questions. They believe that this technology can figure out who they are and what they desire. They rely on dating apps to browse through the possibilities and tailor their dating experience. A digital mortgage will have the same characteristics. Fintech should assist borrowers in locating mortgage solutions that meet their specific demands by employing appropriate filters and user-friendly features. Borrowers today expect understanding on a personal level. This is something that digital mortgages are capable of.
Digital adoption in digital mortgage system
In home loan services, digital adoption implies embracing a digital mortgage system, such as digital asset authentication. Lenders can use digital solutions to check earnings, investments, and occupations without the high-friction encounters with borrowers that were made more difficult by pandemic limitations. As digital mortgage solutions had clearly proven during the pandemic, digital innovation helps mortgage lenders to be more agile and responsive to market changes. The deployment of digital technology also simplifies the origination process. Digital verifications, according to Fannie Mae, can cut process time by up to 12 days. And real-time data is much more precise, which helps to reduce fraud and financial risk. Digital adoption is also gaining pace as it meets the demands of today's digital consumers.
Automated decision-making
Today's consumer expects Amazon Prime delivery times of two days and real-time online help. Efficiency is becoming a non-negotiable aspect in consumer satisfaction across industries, and the mortgage sector is no different. Speed is critical in gaining borrower business and making loan customers satisfied. Borrower respondents specifically stated that they emphasized a quick-to-complete mortgage application, prompt communication, and a rapid time to close. While this demand for a quick loan procedure is not surprising, it does highlight the mortgage industry's ongoing inefficiencies, as well as the potentially significant advantages technology, can contribute to the process. Maxwell Point of Sale, for example, reduces the time to close by an average of 13 days, giving a strategic advantage for lenders aiming to impress their consumers.
Customer experience improvement in digital mortgage loan
Lenders may struggle to balance the expectations of customers for an Uberized experience, but the best use customer feedback and big data to improve their customer satisfaction. Customers are aware that they have an influence, and they should use it to help your company's future. Consumers will lead to making better judgments about how to boost customer service in the short term while prioritizing development in the long run. In this extraordinary era of digital mortgage, customer-centric decision-making is critical to success.
Barriers to the adoption of innovative technology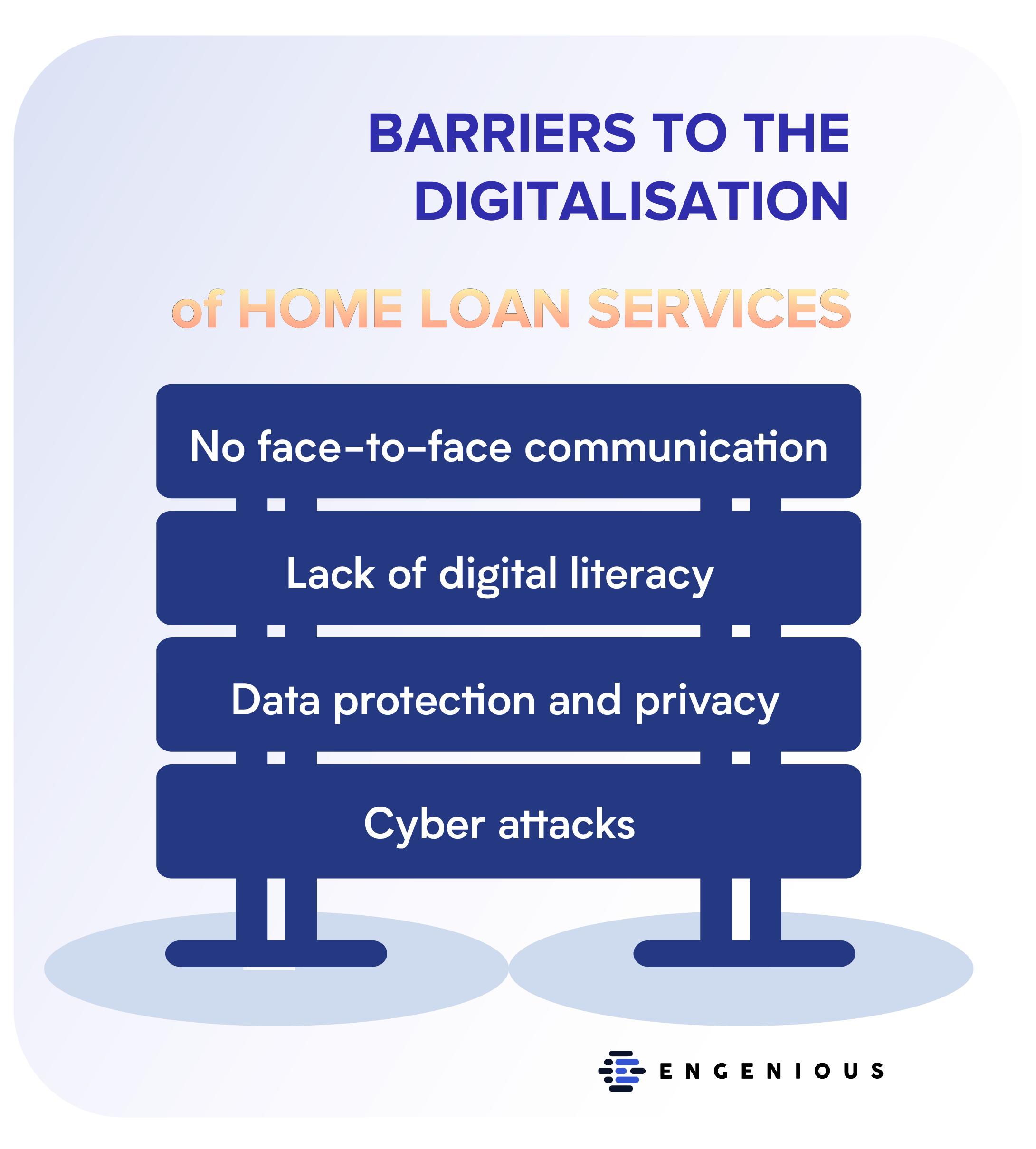 No face-to-face communication
If you use a digital loan provider, you may have a more difficult time getting someone on the phone to help you if you need it. Submitting the application documentation remotely rather than in person may make it more difficult to fill out or more likely to make a mistake, putting your application in danger. You may have to accept email contact, so if you have any questions, ask explanation before clicking the submit button. This disadvantage, however, is gradually decreasing as digital mortgage businesses improve their customer service procedures.
Cyber attacks
As technology makes our lives easier, hackers have taken advantage of it to obtain access to confidential information. Never pay anything upfront for a proposal or preapproval. Take the time to study the lender before providing any personal information. Check the Better Business Bureau, perform a Google search, check for concerns, whatever it takes to feel confident in your decision to employ a digital lender. Keep an eye on your research because your identity may be at stake.
Lack of digital literacy
Part of the reason emerging digital mortgage efficiencies did not, and still do not, fully translate in the back-office is the trust that comes with the widespread use of any new technology. Borrowers were hesitant to hand over their information to loan officials or processors. In other circumstances, loan officers did not have faith in the technology. Despite the fact that LOs (loan origination systems) submitted the loan request and disclosure materials electronically and accepted borrowers' digital signatures, they also handed them a stack of documentation just to be safe. LOs relied on the security of what they were familiar with, which is paper-centric.
Data protection and privacy
As the Internet grew in popularity, so did cyber attacks. Hackers want to gain access to our personal information in order to manufacture it or sell it to other companies. According to a KPMG 2020 study, 87 percent of consumers believe data privacy is a core human right. Despite this, 68% of people say they don't trust firms to sell their personal information responsibly.
What is the future of quicken loans mortgage services?
The transition to a more digitized lending process is unavoidable. Still, digital mortgage procedures take time to adapt, and there is always some kind of learning curve — or possible reorganization — in back-office operations. That is why it is critical to think about digital adoption immediately. The market is ready, and the trends are in place. Engenious professionals are ready to support you in this process!