Ways to Boost Your Digitalization
Many things and technologies we use nowadays have existed for several decades, but we don't realize this. For instance, did you know that the internet was invented in the 1960s as a secure network through which government agencies could share sensitive information? In January 1983, the World Wide Web (WWW) came into being, and we are slowly moving towards Web 3.0. Similarly, the first-ever computer was invented in 1822, although it looked nothing like the devices we are accustomed to.
Looking at the years mentioned above, we can see that humankind has made a massive leap to digitization. With each year, more tasks and operations are automated, be it for businesses or personal life. However, when the COVID-19 pandemic rippled through the world, it exposed several companies using standard components and failing to digitize themselves completely.
If there is one thing that we can all agree on, digitization is the need of the hour. Keeping that in mind, this article discusses the components of digitalization, the possibilities it unlocks, and the tips you can implement for successful digitalization.
Components of Digitalization in 2022
When creating and implementing a digitalization strategy, you must make a comprehensive and complete roadmap that the entire organization can follow clearly, without any confusion or discrepancies. Several components play an essential role in the process, and you can read about them here.
Having the Right Vision
Everything starts with a vision, no matter how big or small it may be. When it comes to digitalization, every company should aim to bring about change on a larger scale while also ensuring that the company has a positive digital culture moving forward. The executives and stakeholders of the company can join heads and factor in all the loopholes, threats, and opportunities to develop a solid strategy.
This will help the company optimize the customer experience, get ahead of its competition in the market, improve revenue streams, and improve overall business operations. A solid vision is contingent upon leadership that embraces change and welcomes transformational opportunities, especially in a web development company.
Creating a Transformation Strategy
The next step is to develop a time-bound and well-documented digitalization strategy. It should encompass various factors that need to be considered. For example the pain points faced by the company, the expected outcome of the transformation strategy, and the efforts required to deliver an optimized customer experience.
When your end goal is clear, your organization can determine the technological and cultural requirements that will bring about digitalization. Without a sound strategy, the organization won't be able to make any substantial or visible difference, which would also hinder its operations and workflows. Instead, it would cause the organization to spend lots of money without experiencing any significant change.
Implementing New Technologies
When discussing a digitalization strategy, most people think it has to be loaded with technology from the word go. However, things are entirely different on the ground. You should bring technology into the fold during the final stages of the strategy.
Let's assume you have established the new strategy and have made the necessary changes according to what is advised. Then your organization should review the existing technology stack and identify any loopholes, data gaps, or functionality problems. This would help you determine which technologies need to be upgraded, removed, or added.
Once you have new technology in place, the analytics and insights derived from them will help you make data-driven decisions. It would further lead to digitalization. Another essential thing to remember is that digitalization isn't a one-off approach. It is an iterative cycle that circles failure, evaluation, and implementation.
Cultural change will also help you develop better business models and operational workflows. This may mean that implementing new technology is expensive. But it would also open new horizons to more significant innovation, decreased product release time, increased revenue, and satisfied customers.
Making Cultural Changes
Most companies hold back on cultural changes for fear of crashing and burning. However, not trying out a transformational approach is more damaging than trying one and failing at it. Companies should consider expanding their horizons and tapping into unventured markets while making way for new and innovative business models.
Several companies have chosen the disruptive path, which has worked wonders for them. These companies were already doing well but decided to venture into digital transformation. For instance, General Electric revamped its operations to include the Internet of Things and digitized its product line. As a result, it tapped into a larger market share and also reached out to a more extensive customer base.
Leveraging Data
Another critical component for digitalization is the use of data-powered technologies to influence business decision-making. The advent of machine learning and artificial intelligence has caused organizations to come leaps and bounds ahead of their competitors. They can analyze consumer spending and buying patterns, preferences and interests, and other data that help them optimize their products and services.
Through AI-powered software, companies can easily predict user behavior and other characteristics. This allows them make business decisions accordingly, maximizing their profitability in the process. The software testing experts within the company can help them choose suitable applications for data-driven analysis and decision-making.
Taking Disruptive Action Within Digitalization Process
There is no digitalization without disruption. Once organizations understand this, they can make impactful decisions that have long-term and beneficial effects. Organizations must implement disruptive technologies, such as enterprise analytics applications, automation and collaboration tools, and several others. These applications are very important for the overall digitalization process. They help companies save time and money in the long run.
Moreover, disruptive actions and technologies help organizations eliminate redundant manual processes, replacing them with more efficient and rapid solutions that bring effective organizational change. Ultimately, this results in exponential and measurable growth within the organization.
New Possibilities Opened by Digitalization
As mentioned earlier in this article, digitalization isn't a one-time project that organizations implement and get things done rapidly. Instead, it is a long-term journey that requires several iterations. Organizations have to fail several times and retrace their steps before they can find the right solution. Moreover, digitalization brings about new possibilities and horizons for organizations. Whether they provide app development services, software testing, or anything else.
Here are some of the vast possibilities unearthed through a practical and comprehensive digital transformation strategy.
Customer Relationship Management as a Part of Digitalization
Customer Relationship Management is an ongoing process that defines the interactions and engagements between a business and its customers. This process relies on data analysis to provide valuable insights to strengthen customer relationships. Through digitalization, CRM operations are also automated and managed securely. It makes it easier for organizations to manage their interactions faster and more reliable.
One example of efficient Customer Relationship Management through digitalization is Cartinuity, an e-commerce platform that empowers and facilitates revenue-driven businesses. The company faced challenges designing custom processes for its clients, including delivery and payment processes.
Thanks to Engenious's world-class web development service, Cartinuity optimized its overall client experience. Our NodeJS and React JS developers helped them achieve a solution they could use to mix and match products, adjust the frequency, and have complete control over their inventory and ordering. We may design a custom CRM system for you. Let's discuss your project.
Human Resource Management
Human Resource Management includes scouting and hiring new talent, as well as managing existing employees within an organization. Moreover, it helps maximize each employee's productivity and achieve their maximum potential. Through digital transformation, human resource departments can use AI-enabled applications to manage their employees more efficiently.
Invet.ua is a comprehensive and efficient logistics solution for vet drug distribution. It has been in the business for more than ten years. The Ukrainian company decided to embrace digitalization by optimizing its logistics operations, and it turned to Engenious to develop an app to streamline everything.
Engenious developed a full-fledged logistics app integrated with the 1C service, GPS, QR code technology, and other essential components. It digitized the entire user flow for Invet.ua. We helped them to maximize their profitability while making their employees' lives easier. You can discover more about our collaboration on our Invet.ua case study page.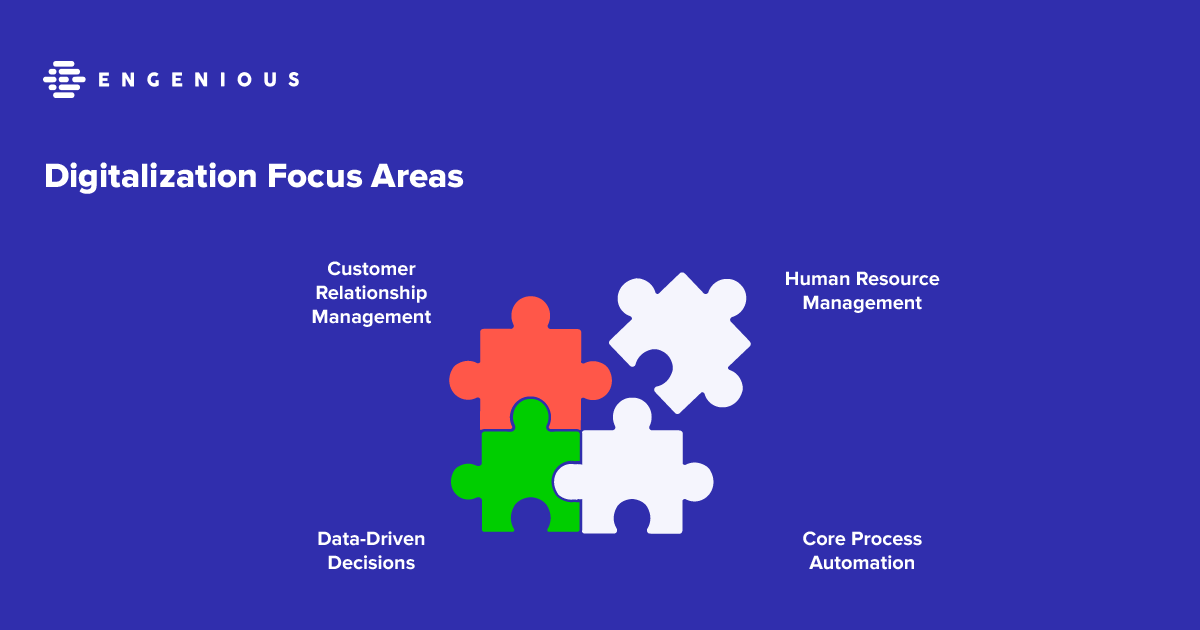 Core Process Automation
Business Process Automation is the cornerstone of any digitalization strategy. It involves using automation technology to streamline business operations, making them more efficient and rapid. You can eliminate redundant processes from your workflow and enhance your overall productivity and profitability while venturing into new avenues.
A2B Direct is an online cargo logistics marketplace that connects cargo owners with freight forwarders. It can be called an "Uber" for freight logistics. It has Engenious to thank for streamlining and digitizing its operations. The company had a lot of unutilized cargo space, which resulted in a loss of profit.
Engenious used an efficient algorithm to create a one-window solution app for A2Bs cargo operations. Thanks to it A2B Direct managed to revolutionize its operations and accelerate its workflow. Through stellar features like driver collaboration, bidding and flexible pricing, integrated management systems, and much more, it provides drivers, cargo owners, and other personnel to manage their operations efficiently. Contact us to order our services.
Connected and Dynamic Operations as a Result of Digitalization
One of the most significant benefits of digitalization is that it allows companies to stay connected. If a company has offices in different states, communication might be a significant hurdle for them. Thanks to digitalization, automation, and online collaboration technologies, organizations are more connected than ever.
Nextres is one such company that has managed to run its operations smoothly and without any problems in communication. The company provides mortgage loan solutions to a vast clientele. It was looking to optimize its entire ecosystem through digitalization. It contacted and relied on Engenious to offer it a comprehensive solution.
Engenious used its expertise to transform Nextres' entire user flow and extend the functionality it provides to clients. Due to this, customers are better guided regarding what Nextres has to offer and are more satisfied.
Data-Driven Decisions
Data-driven decisions involve data analysis and the generation of valuable insights that companies. It can be used to make more informed and sound decisions. Through digitalization, companies have automated and AI-based tools that they can use to make better decisions that influence and benefit the business in the long run.
As mentioned earlier, Nextres used Engenious' app development services to streamline the user flow. To find out more, read about Private lender's case. Engenious designed different UI/UX for various target audiences and provided tailored functionalities, integrations, etc. This way, each client or customer got exactly what they required, which worked wonders for the company.
Tips for Successful Digitalization
Now you have a clear and comprehensive idea of what digitalization is, as well as its components and possibilities. Time to consider the tips and methods that ensure the successful implementation of a digitalization strategy. Here is some valuable information that you can try.
Determine Which Processes Need to Be Digitized
Digitalization doesn't mean you have to overhaul the entire company's infrastructure. Also you don't have to get your hands on the first technology you can find. Take your time to determine which areas of the company should be optimized first. Especially those that will pay you back the fastest and bring effective change to the organization. This step also requires you to identify technologies, applications, and solutions that align with your company culture and workflows.
Focus on What the User Needs
Digitalization is always focuses on optimizing the user experience. You need to focus on the user and customer journey to make your efforts and strategies successful. For this purpose, you can map the entire customer journey and identify which touchpoints to optimize for a better user experience. Also try to implement consistent strategies and long-term. Otherwise you'll have to keep changing gears every time something goes south.
Foster a Culture of Adaptability
Since we are talking about implementing digital transformation, change will be an essential catalyst in the process. You have to be open to changing cultures, technologies, and strategies, to be able to bring about a digitalization. Therefore, you need to create a culture of adaptability throughout the organization and ensure everyone is on board with it. Otherwise, you will struggle to maintain momentum.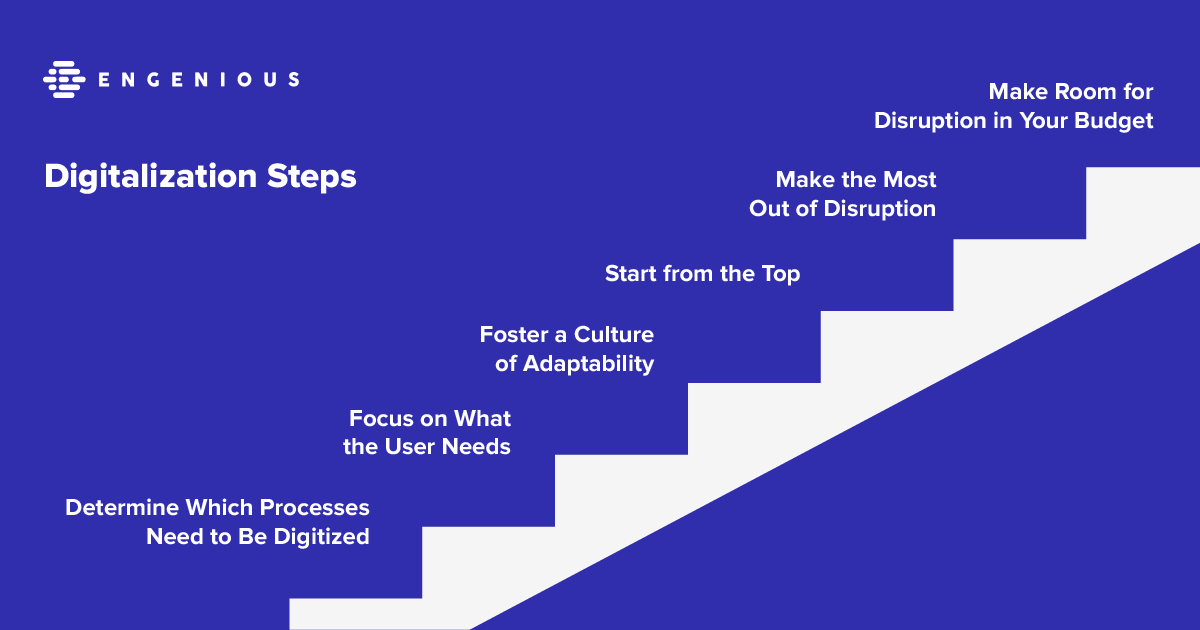 Start from the Top
Like many other changes and movements, digital transformation must also come into effect from the top. Experts and research also suggest that the ultimate responsibility of digitalization falls into the hands of the senior management. They should play an active role in determining the technologies to implement. Moreover, they should also oversee hiring the new talent required to bring effective change. Therefore, your C-level employees must be on board and capable enough to spearhead the change.
Make the Most Out of Disruption
Disruption may sound like a negative term, but it is one of the best things to happen in this century. Technological advancements disrupt the conventional workflow and change the lives of the consumers. The entire organization should be able to adapt to disruption and leverage it for better and more consistent results.
Make Room for Disruption in Your Budget
One of the biggest things companies struggle with is finding the budget for digital transformation strategies. As mentioned earlier, this kind of disruptive transformation can be quite costly. While it does pay back handsomely, you have to make room for it in your budget. Most corporations and organizations have dedicated billions of dollars to embracing disruption and going digital ultimately. It is time for you to join them too.
With this, we conclude our guide on three ways to boost your digital transformation. As you can see, a digitalization strategy requires a lot of planning, strategizing, and effort, especially at the top level. Moreover, it needs your entire organization to be on board for your efforts to bear fruit. And it comes with a hefty price tag. However, once you manage to design, develop, and implement a successful digital transformation strategy, you will see its results quickly. Remember that it is an ongoing process, and your planning should also reflect that.